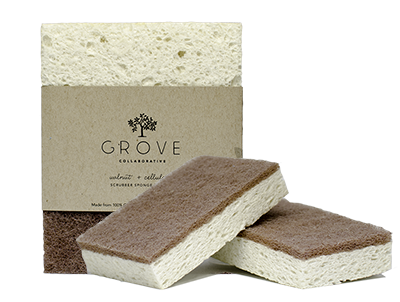 Life has been crazy, and I've been MIA lately. Hey, it's the end of the school year, and I've been bombarded with kid stuff.
That being said while I've been running around like a chicken...well you get the picture I've been thoroughly enjoying my monthly Grove Collaborative orders. I love, love, love anything home delivery! Not having to leave the Ranch to go to the store is a huge plus especially when carpool mom takes up a good chunk of my days. I've gotten some amazing natural cleaning products and because Grove rocks, I've been able to try some amazing products at either low or no cost to me. Although I have a long list of favorite products two really stick out: the Grove Collaborative extra-large kitchen towel and the Grove Collaborative walnut scrubber sponge. I literally order the sponges EVERY month. They're super durable and last longer than any other sponge I use. I needed new kitchen towels when I placed my first order, 4 kids and a hubby who cooks can be hard on anything. They are super absorbent, huge, and pretty, something every mama loves.
Not only am I getting sustainable products delivered to my home, but Grove actually has a customer service department that responds quickly and makes me feel like I'm the only customer they have. I high recommend these guys! Check them out and find some product faves of your own!
https://www.grove.co/pantry